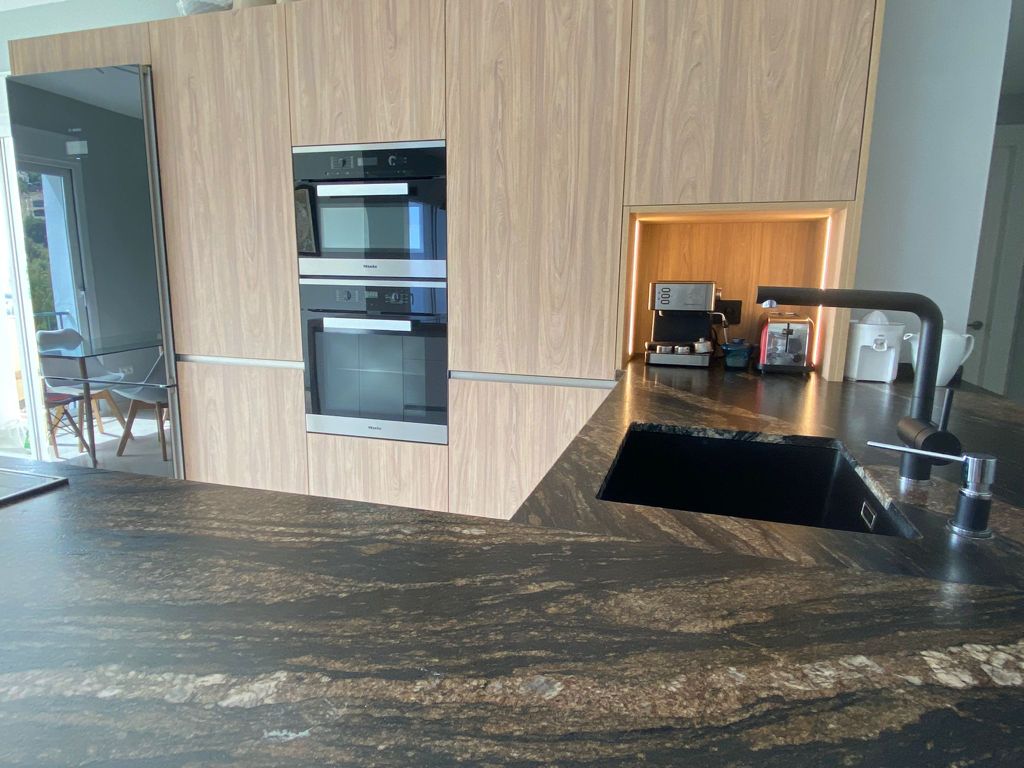 Types of worktops for your kitchen
The types of worktops available on the market are very varied, each one has its advantages as we will see below. You should also bear in mind that the worktop you choose will have a great impact on the aesthetics and usefulness of the space.
What style do you want, do you fancy a smooth or aged finish, what do you use your kitchen for? These and other factors will be taken into account when recommending the size, strength, layout and maintenance of the work surface you need.
1. Encimeras Sintéticas
Chipboard worktops, made from a mixture of quartz and resin, offer a smooth, durable surface in a wide range of colours.
Advantages: Maximum strength, hygienic and easy to maintain. In addition, it can be shaped into any shape, even on sinks and rims. The colour is uniform over the entire surface.
2. Porcelain worktops
Porcelain worktops have the best properties, compared to other materials, if we look at such important aspects in a kitchen as stains, scratches, impacts and heat.
Advantages: 100% inorganic materials are used in its manufacture, it does not contain resins or additives, so the appearance does not degrade over time. Moreover, as it is a non-porous product, it is not necessary to use a sealing layer to protect the worktop as with natural stone. Together with stainless steel, porcelain worktops are the most resistant material (30% more resistant than granite).
3. Wooden worktops 
From oak and maple to walnut and iroko, all types of wood bring warmth and texture to kitchens. These types of worktops are very common when looking for a Nordic or rustic style for example.
Advantages: Wood is a natural antibacterial that is relatively easy to install and repair. However, you should be aware that it does require some care. If you are willing to varnish it regularly, it will always look impeccable.
4. Encimeras de Hormigón 
These work surfaces are very trendy, but they don't suit every style. Concrete has the most industrial aesthetic of all worktop materials.
Advantages: It is the best option for an avant-garde look. It can be given any shape and can be repaired or stripped to remove stains. It becomes more solid over time and is the ideal material for bonding interiors and exteriors.
5. Encimeras de Granito 
Granite is the most popular stone for worktops, because it is hard-wearing and we can choose from a wide variety. It visually gives the kitchen space a solid feel. The wide range of shades and finishes available makes every surface unique. In addition, there are perfect options for both modern and traditional kitchens.
Advantages: It is very hard, shock and impact resistant and does not scratch. It is also comfortable due to its heat resistance, as it allows us to leave pans and pots hot without any problem.
6. Encimeras de Mármol
These types of worktops have a more open grain than granite. Therefore, it can be the best option if you want to add a section to a surface of another material, both to add a touch of luxury and to have an auxiliary tool when cooking; as a cutting board.
Advantages: Its visual effect is undeniable. It is simply stunning. It exists in a huge variety of models and colours and each piece is unique.
7. Encimeras de Cristal 
This type of worktop is made of tempered safety glass. It is neutral and luminous, making it the perfect choice for contemporary kitchens.
Advantages: There is an almost unlimited choice of colours. It can be illuminated from below to give a special effect. It is very easy to maintain because the pores do not stain and it is not affected by water.
Estos siete tipos de encimeras son los más comunes, pero si te han surgido nuevas preguntas, te recomendamos contactar con nosotros llamando o a través del siguiente formulario. Ideally, you should come and visit our kitchen shop in Estepona for a relaxed chat and to answer any questions you may have.