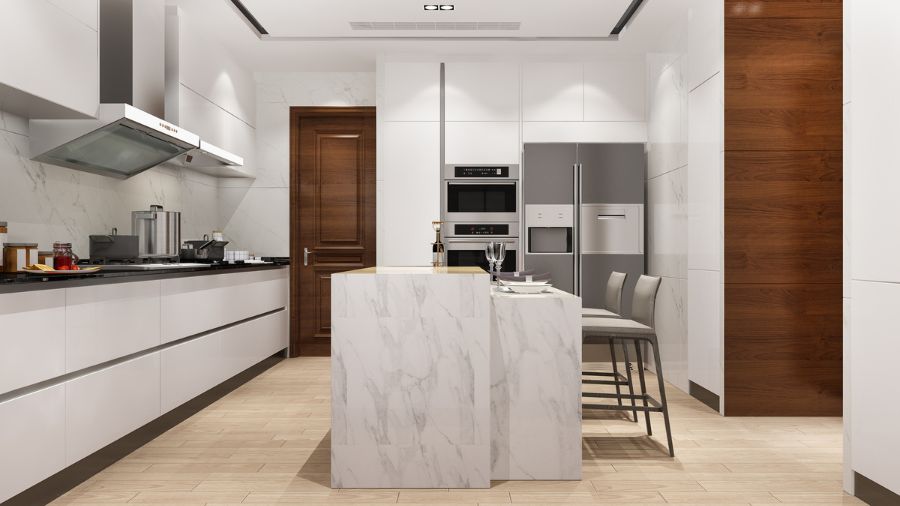 10 things you need to know before you renovate your kitchen
When we are thinking of changing the kitchen, many doubts arise. Not only about the design, but also about delivery times, what materials to use, etc. In this article we want to tell you 10 things you should know before renovating your kitchen.
What style are you looking for?
The first thing is to find the style you identify with and the one you want for your kitchen. There are many different kitchen styles, so it is important that you find the one you like and matches your lifestyle. Here are some details of the most popular styles in kitchens:
Modern kitchen. Modern kitchens are characterised by a minimalist and contemporary design. Clean lines, neutral colours and high quality finishes are common elements in this style.
Traditional kitchen. Traditional kitchens have a more classic and timeless look. Decorative elements such as mouldings and trim are common in this style.
Rustic kitchen. This style is inspired by nature, country houses and is usually a style that brings a cosy and warm feeling to the kitchen. Natural materials such as wood and stone are the protagonists in this style.
Open or closed kitchen, with or without an island?
The choice between an open or closed kitchen depends largely on the personal preferences and lifestyle of the individual. Both options have their advantages and disadvantages.
An open kitchen is one that is integrated with the living or dining area, with no walls or doors separating it. This design allows for greater interaction between people in these areas, which can be ideal for those who enjoy cooking and socialising at the same time.
It also allows for more natural light and a feeling of spaciousness. However, there can also be more noise and odours in the living or dining room and because of the greater exposure, the kitchen must be kept in a tidy and clean state at all times.
On the other hand, a closed kitchen is one that is separated from the living or dining room by a door or wall. This can be ideal for those who prefer to cook in private and have greater privacy.
Unlike an open kitchen, this design can help reduce noise and odours in other areas of the house. However, it can also give a feeling of isolation and limit social interaction when guests are present.
It is important to evaluate the advantages and disadvantages of each option with the help of a professional in order to make a final decision.
As to whether or not to incorporate an island, the decision will depend on a number of factors such as the size of the kitchen, the layout of the space and personal needs.
Some of the advantages of incorporating an island are more storage space and greater functionality.
10 things you need to know before you renovate your kitchen
Here are 10 things you should know before renovating your kitchen, so pay close attention! If you need professional help to design the kitchen of your dreams, don't hesitate to contact Design Kitchen, we'll help you!
Budget. The budget is a key factor in any refurbishment and even more so in a kitchen where you have to choose electrical appliances, materials, etc. Before starting, it is important that you take into account the budget you have available to spend. Take the time you need to make a detailed budget that includes all the costs: materials, labour, appliances, etc.
Design. The design of your kitchen is important, it must be functional and adapted to your needs. If you have doubts or want to avoid frequent mistakes, seek help from a professional. In Marbella and Estepona we can help you personally.
Functionality. In addition to design, functionality is crucial in the kitchen. You must ensure that your kitchen is comfortable and efficient to work in.
Style. Choose a style that suits your taste and is also timeless. This will ensure that your kitchen will look up-to-date for years to come and prevent it from becoming obsolete quickly. Choose a style that suits your home and lifestyle.
Materials. The choice of materials is very important. Trust in reliable suppliers. At Design Kitchen we work with brands such as Leicht or Muebles Ébano.
Lighting. Lighting can make a big difference to the look and functionality of your kitchen – don't overlook it!
Timelines. Before you start, it's good to make sure you have a clear idea of how long the renovation will take to help you plan ahead and avoid any stress. Some unforeseen events and delays may arise, so be aware of these small details too.
Workmanship. It is important to surround yourself with professionals who have years of experience and expertise to help you design the kitchen of your dreams. Skimping on workmanship is synonymous with poor finishes, sloppy assembly and poor attention to detail.
Kitchen design experts in Estepona and Marbella
At Design Kitchen we can advise you on designer kitchens in Estepona and Marbella. Throughout more than 30 years of experience we have designed and manufactured a wide variety of kitchens with different styles for our clients.
Are you looking for the kitchen of your dreams? You can visit us or send us the following form and we will contact you to inform you or answer any questions you may have.