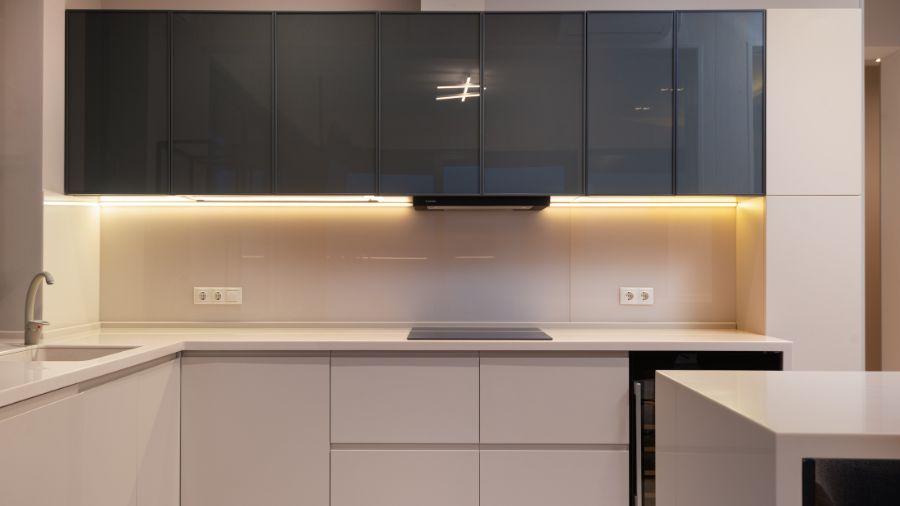 Minimalist decoration in kitchens
What is minimalist decoration in kitchens? We explain what this type of decoration consists of and how to apply it in your kitchen. At Design Kitchen we offer you advice on kitchen design in Marbella and Estepona.
This type of decoration has become a popular trend in recent years and kitchens are no exception! A minimalist kitchen can be elegant, sophisticated and functional, making it perfect for those looking for a tidy space and a modern look.
What is minimalist kitchen decoration?
Minimalist kitchen decoration is based on the use of simple lines as well as the choice of basic, neutral materials and colours.
Wood or stainless steel are an excellent choice of materials to combine in the minimalist kitchen, as they have a simple appearance and can be combined with granite or quartz worktops to add a touch of elegance.
On the other hand, integrated appliances are also an excellent choice, as they allow them to disappear into the décor and do not interrupt the minimalist look.
In short, minimalist decoration in the kitchen is all about creating a simple, elegant and efficient space. At Design Kitchen we can adapt to your tastes and advise you on the different styles of decoration to achieve the kitchen of your dreams.
Benefits of having a minimalist kitchen: elegance, sophistication and functionality.
Minimalist kitchens have many benefits. Here are some of the most relevant ones:
Elegant and sophisticated. Minimalist décor creates a sleek and sophisticated look in the kitchen, enhancing the aesthetics and value of your home.
Functionality. By focusing on simple lines and geometric shapes, as well as organisation and functionality, minimalist kitchen décor maximises the use of space and makes it easier for you to use your kitchen.
Easy to clean. The types of neutral materials and colours used in minimalist décor are easy to clean and maintain, which means your kitchen will always look spotless and organised.
Timeless. By using few elements and relying on simplicity, this style of decoration is timeless, never going out of fashion. Even if trends change in the future, a minimalist kitchen will always look elegant and sophisticated.
Efficiency. Minimalist décor allows for better efficiency in the use of space and easy accessibility to furniture and accessories, which means you can cook more efficiently and comfortably.
If you would like to try some of our show kitchens with these characteristics, you can come and visit us at our kitchen showroom in Estepona, we are waiting for you!
Key elements of minimalist decoration in kitchens
These are some of the key elements that cannot be missing in a minimalist style kitchen:
Simple lines. This means that the kitchen should have simple lines, without too many details. For example, use cabinets with plain, unadorned doors.
Neutral colours. Neutral colours such as white, grey, beige and black are the best to keep the atmosphere simple and elegant.
Textures. The right combination of textures can help create a minimalist ambience. Popular choices include wood, marble, stainless steel, ceramic, glass and plastic. At Design Kitchen we work with top quality suppliers such as Leicht or Ebony Furniture.
Accessories. A minimalist kitchen does not need too many accessories. A good idea is to choose a few decorative elements, such as a rug, a lamp, a vase or a painting to give it a unique touch.
Lighting. Proper lighting is essential for a minimalist kitchen. Recessed lights, ceiling spotlights and floor lamps are good options to create a clean, modern ambience.
Would you like to have a minimalist style kitchen?
At Design Kitchen we advise you on designer kitchens. Throughout more than 30 years of experience we have designed and manufactured a wide variety of minimalist style kitchens for our clients.
Are you looking for the kitchen of your dreams? You can visit us or send us the following form and we will contact you to inform you or answer any questions you may have.