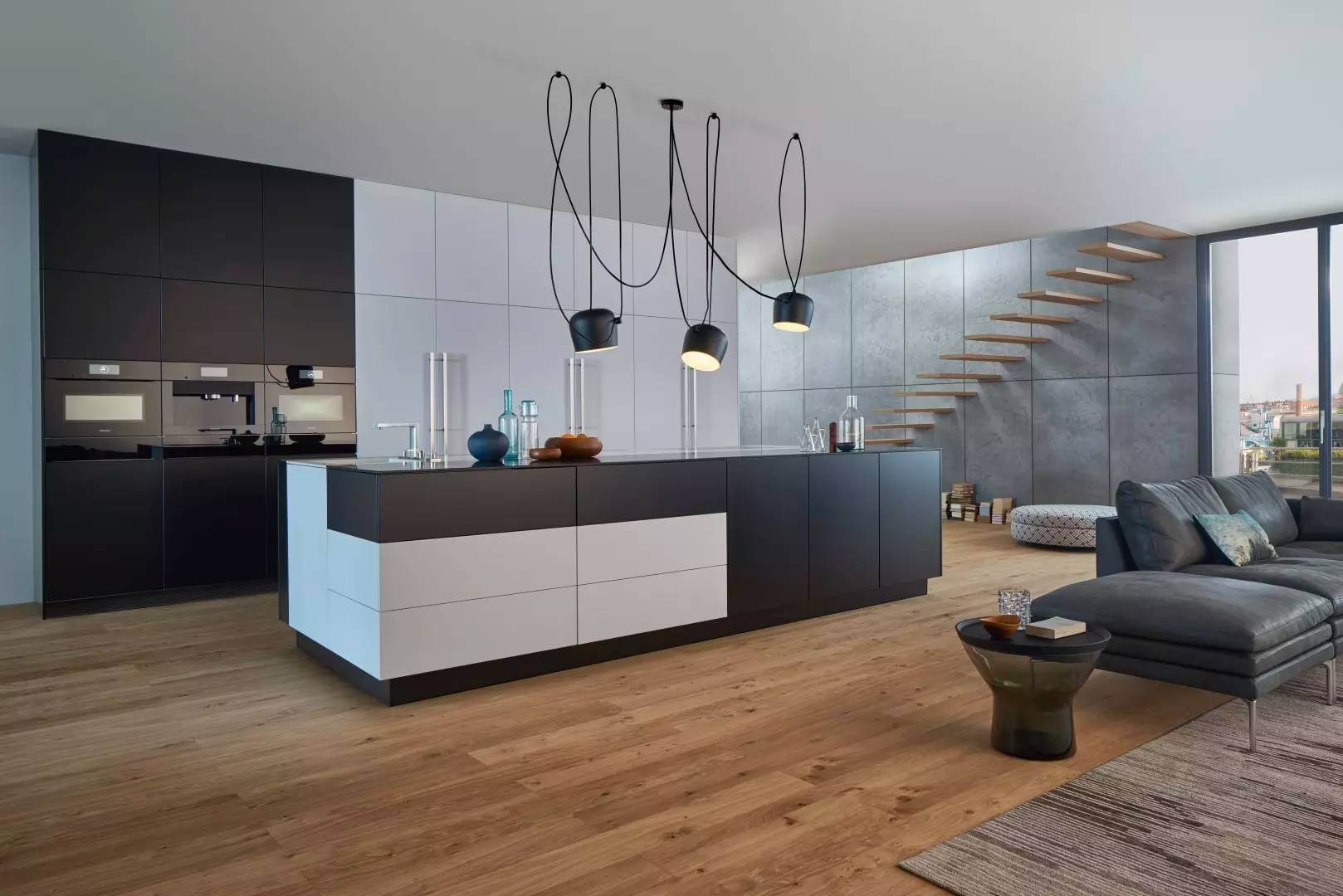 White and wood kitchen
Discover the power of a perfect combination: white and wood. These two elements come together in a symphony of light and warmth, creating a cosy and unique atmosphere in your kitchen. If you want a white kitchen and you are looking for ideas to combine it with wood, you are in the right place.
In this article we are going to reveal some guidelines and ideas to achieve a design that will make you fall in love. Get ready to discover how to merge the luminosity of white with the interesting variety of woods.
We adapt the white and wood kitchen to your decorative style.
When we think of a white and wood kitchen we usually think of Scandinavian or Nordic decorative styles. However, it is a much more versatile option that we can adapt to multiple styles.
Scandinavian or Nordic style: This style is characterised by its minimalist, functional approach and clean lines. A white kitchen with light wood would fit perfectly, as it highlights the feeling of lightness and spaciousness that is sought after in this style.
Modern or Contemporary Style: Modern kitchens tend to have a clean and elegant design. A combination of a white kitchen with dark wood can create a striking and sophisticated contrast, adding warmth and character to the space.
Rustic or country style: In this style, wood is a key element. A white kitchen with wood in warmer tones, such as dark oak or walnut, can add a rustic and cosy touch, creating a traditional and homely atmosphere.
Industrial style: The combination of a white kitchen with dark wood tones can fit perfectly into an industrial environment. The wood adds warmth and contrast to the metallic elements and white surfaces typical of this style.
Ideas for renovating your kitchen in white and wood
If you are looking for ideas to renovate your kitchen, on social networks such as Instagram or Pinterest there are plenty of white and wood kitchen ideas to inspire you. If you would like to enjoy personalised advice, with a kitchen planner that adapts to the space in your home, come and visit our kitchen shop in Estepona.
Where to incorporate wood in your kitchen?
We have many ways to incorporate wood into your new white kitchen. It's simply a question of creativity, as we don't have to limit ourselves in the combination of cabinets and worktops.
For example, you might consider incorporating open shelves or shelving, occasional furniture such as tables, chairs and stools, as well as door and window joinery. There is always a suitable place to showcase the beauty of wood.
In addition to cabinets and worktops, wood can also be used on other surfaces such as floors and ceilings. Whether in rustic, modern or industrial style spaces, sturdy wooden beams can be used to accentuate the design. If you have enough space or a kitchen that is open to the living room, a very attractive decorative idea is to incorporate a wooden breakfast bar.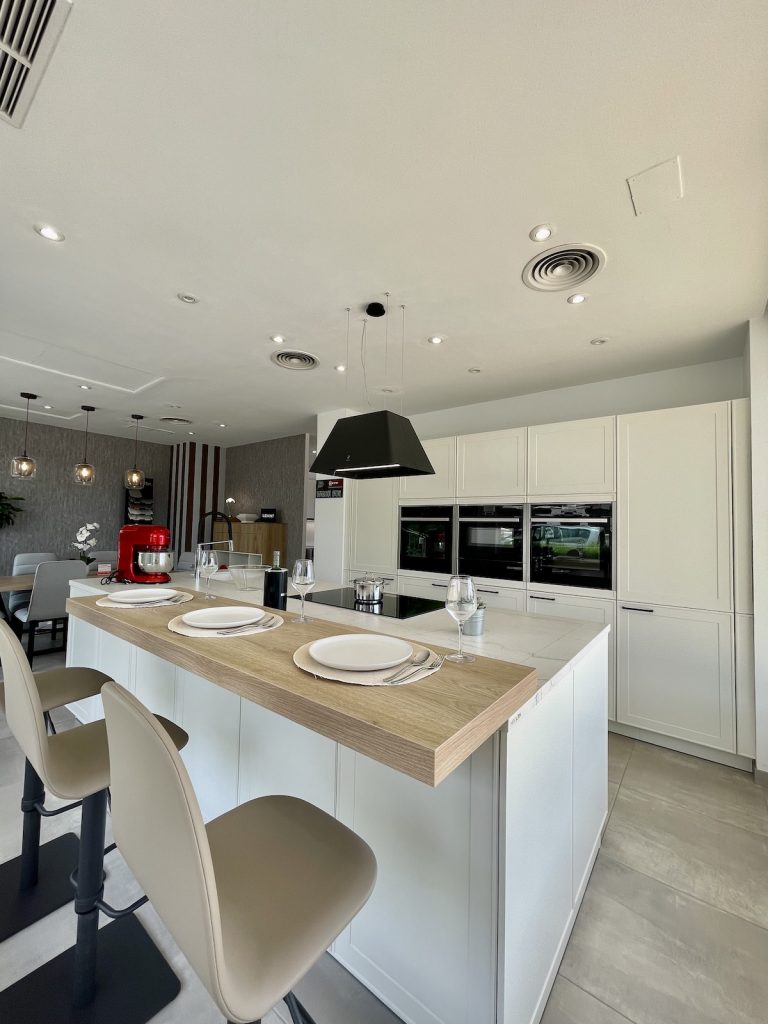 If you have a parquet or wooden floor and you want to maintain this style, our recommendation is to opt for a ceramic floor, for example. Nowadays there are designs with wood texture in any colour that provide a spectacular finish. They are also more resistant and waterproof.
White kitchen and dark wood
When it comes to designing a white kitchen, we almost instinctively think of light woods. However, darker woods such as walnut or dark oak can also be an excellent choice. Their warmth and grain can bring elegance and sophistication.
If you are lucky enough to have a large and bright space, you could consider this style of kitchen. In our kitchen planner we can create 3D kitchen sketches to give you a more precise idea, and in the shop we can show you different colours and finishes.
If you have a small space but like the idea of using dark wood, then we can play with the height of the furniture and the lighting, so that the dark colour does not optically reduce the space.
If you like contrasts and opt for darker woods, white will become your best ally to lighten the whole and give it more luminosity. This combination is perfect for example for minimalist and avant-garde style kitchens.
We hope these ideas and recommendations have inspired you, if you have any questions or would like some personalised advice, please do not hesitate to make an appointment at our kitchen shop, where we regularly serve customers living in Estepona and Marbella.