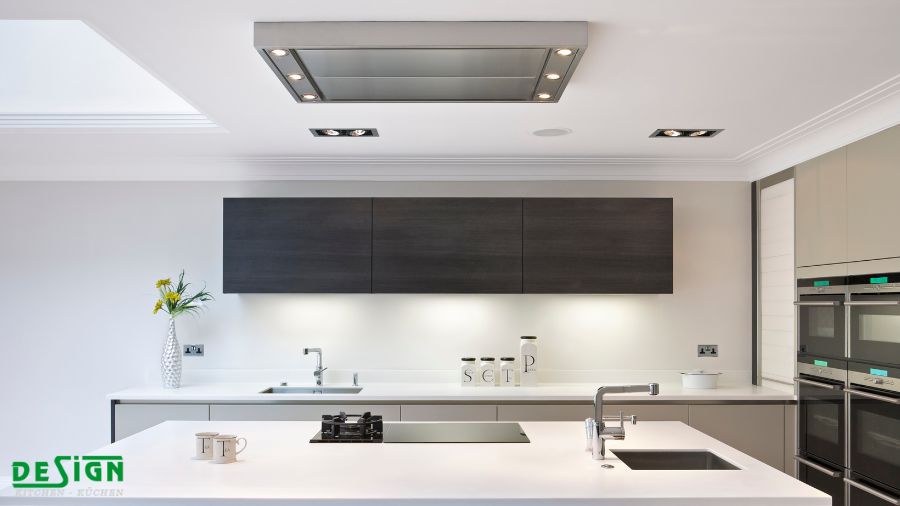 Ceiling extractor hoods
We tell you about the advantages of incorporating ceiling extractor hoods in a kitchen. At Design Kitchen we have professionals who will advise you on the choice of appliances and designer kitchen furniture.
The kitchen is the heart of the home and should be designed as such. The kitchen is a room in the home where family and friends gather to cook, eat and socialise. A modern kitchen should be designed with this in mind, making it a warm and welcoming, functional and stylish space.
There are many kitchen designs to choose from and the best way to find the right one for your home is to consult a kitchen designer. Kitchen designers are experts in kitchen design and can help you create the perfect kitchen for your home by choosing the best furniture and appliances.
Ceiling extractor hoods are part of the new trends in kitchen decoration. Extractor hoods have been modifying their aesthetics to adapt to the latest technologies and trends in kitchens.
In today's article, we tell you all about ceiling extractor hoods.
Ceiling extractor hoods for designer kitchens
The choice of ceiling-mounted cooker hood for designer kitchens is a very important decision. You should not only think about aesthetics, but also about functionality. It needs to suit your style of cooking and your available space.
There are many options for ceiling extractor hoods for designer kitchens, depending on the material, size, design, etc. At Design Kitchen we can help you!
Benefits of roof extractor hoods
Ceiling extractor hoods are an excellent choice for designer kitchens as they offer a host of benefits.
Firstly, they are very effective in removing smoke and odours from the kitchen, which helps to keep the environment clean and fresh. They are also very effective in keeping fresh air in the kitchen, as they prevent hot and humid air from being trapped in the kitchen. In addition, ceiling extractor hoods help to keep the temperature in the kitchen lower, which can help to save energy.
Finally, they are characterised by their lower noise level, making for a much quieter and more pleasant environment.
Types of cooker hoods
Ceiling extractor hoods can be grouped into 2 broad categories:
Ceiling extractor hoods with ceiling outlet. This type of ceiling extractor hood is characterised by the fact that the exhaust is directly through the ceiling, i.e. it pushes the dirty air through a hood installed in the ceiling. These hoods are designed to promote open and clean spaces, with a modern aesthetic.
Ceiling extractor hoods without recess. This type of extractor hoods only have a ventilation function which is recirculation, i.e. they will filter the air but will not extract it as they do not have ducts. They are cheaper, and although they save energy and installation costs, they can be less efficient.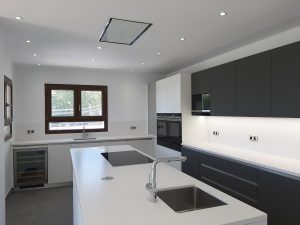 This type of appliance should be installed just above the cooking area, and as many modern kitchens place it on the island, it is common to speak of island hoods or suspended hoods. Their efficiency in absorbing the vapours and odours that are given off when cooking is very high.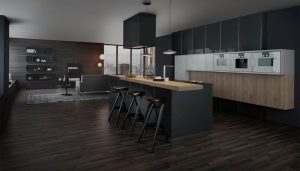 Extractor hoods for kitchen islands
Do you have an island in your kitchen? If your cooking area is on the island, you will have no problem with this type of hood. They also add a touch of functionality, design and energy savings to your kitchen.
Island hoods are also characterised by their importance as a design element, as they can bring a great deal of creativity to this space in the home due to their wide range of designs, shapes and materials.
They are also very effective, as they can be activated automatically when we start cooking or by remote control. This, together with their LED lighting systems with different levels of intensity will captivate more than one guest, and will make the owner feel very proud of their investment.
Your guests will be thrilled!
Designer kitchens in Estepona and Marbella
Choosing an overhead extractor hood is not an easy task, although you may think that they all fulfil the same main function, they should be selected considering specific characteristics for each type of kitchen.
At Design Kitchen we have a team of professionals with extensive experience advising and designing kitchens in Estepona and Marbella. Put yourself in the hands of specialists to build or remodel the kitchen of your dreams.
Contact us and we will help you, ask for information without obligation!