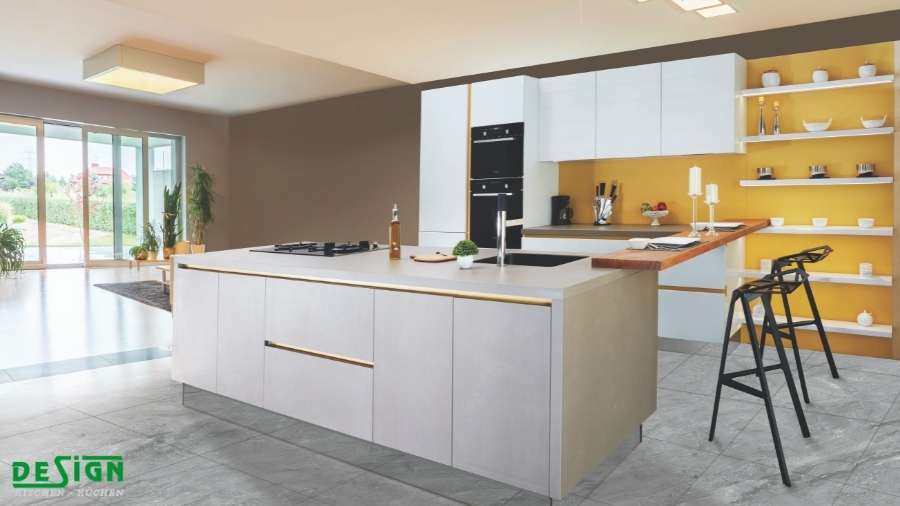 Island designs for modern kitchens
When we talk about modern kitchens with islands, we cannot do so without mentioning some of the most impressive designs we have seen in recent years.
From kitchens with glass ceiling lighting to kitchens with a bar counter with a granite island, these kitchens are incredibly impressive. In this article, you'll find out what's trending in modern kitchen island designs.
Modern kitchens are increasingly incorporating island designs to make the most of the available space and provide a larger and more versatile work area.
These islands can be equipped with a variety of functions, such as shelves for storage, a food preparation area or even a small dining table.
They are also an ideal way to separate the cooking area from the dining area, which can be especially useful in open-plan kitchens. With so many ways to design and integrate an island into your kitchen, it is important to consider which will be the best option for your dream kitchen.
If you have any doubts or need inspiration, at Design Kitchen we can help you design your ideal kitchen, contact us now without obligation!
Island designs for modern kitchens
Modern kitchens are increasingly focusing on island design. This is due to the great aesthetic contribution and the versatility of this space, where a wide range of functionalities can be incorporated.
If you are interested in adding an island to your kitchen, then you should consider the following aspects of modern kitchen islands:
One of the best things about kitchen islands is that they can be customised to suit your specific needs.
For example, if your kitchen is small, you can opt for a compact island that is not too big or serves as a partition if it is open-plan. On the other hand, if you have plenty of space, you can opt for a larger island that gives you more work space or incorporate a sliding table with chairs or stools.
In terms of aesthetics, islands offer a great deal of scope when it comes to design, as they allow you to play with the combination of materials used in the rest of the kitchen. For example, you can cover the worktop and some of the sides with the same stone used in the worktop, you can create different heights for working and eating, you can create bar spaces that allow you to cook and at the same time have guests seated on the other side, etc.
In short, kitchen islands are very versatile when it comes to design, our recommendation is that you make an appointment with our specialists, based on your lifestyle and preferences, they will offer you the most suitable solutions.
Most popular features to include in an island for modern kitchens
Some of the most popular features to include in a modern kitchen island include a hob (gas, induction, etc.), sink and extractor fans.
You can also add a breakfast bar or a dining table, depending on your needs.
If you want to add a touch of luxury to your island, you can also consider installing a teppanyaki-style griddle or a grill with an integrated smoke extractor.
Whatever the style of your kitchen, you can be sure that at Design Kitchen you will find the perfect kitchen island to suit your needs.
Before you choose the island design for your modern kitchen…
Think about what you are going to use it for and the space available. Sometimes customers get carried away with "magazine designs" that don't really fit their lifestyle or cooking needs.
It is also necessary to take into account the possible alterations that may be necessary to incorporate a sink or hob in the island. In other words, it may be necessary to carry out electrical and plumbing work to bring electricity, water and drainage points to the island.
Moreover, if we want a hob for cooking on the island we will need an extractor fan, this can be integrated in the worktop, but if we do not need one in the ceiling, depending on the design and the model of the extractor fan it may also be necessary to carry out works and bring in a duct through which the smoke comes out.
As for the shape of the island and the distribution of the elements, if you are not sure, our team of designers will offer you multiple possibilities in a 3D environment so that you can have as realistic an idea as possible of the result.
Examples of island designs in modern kitchens
These are some examples that you can visit in our kitchen showroom in Estepona, where we have different designs of islands for modern kitchens: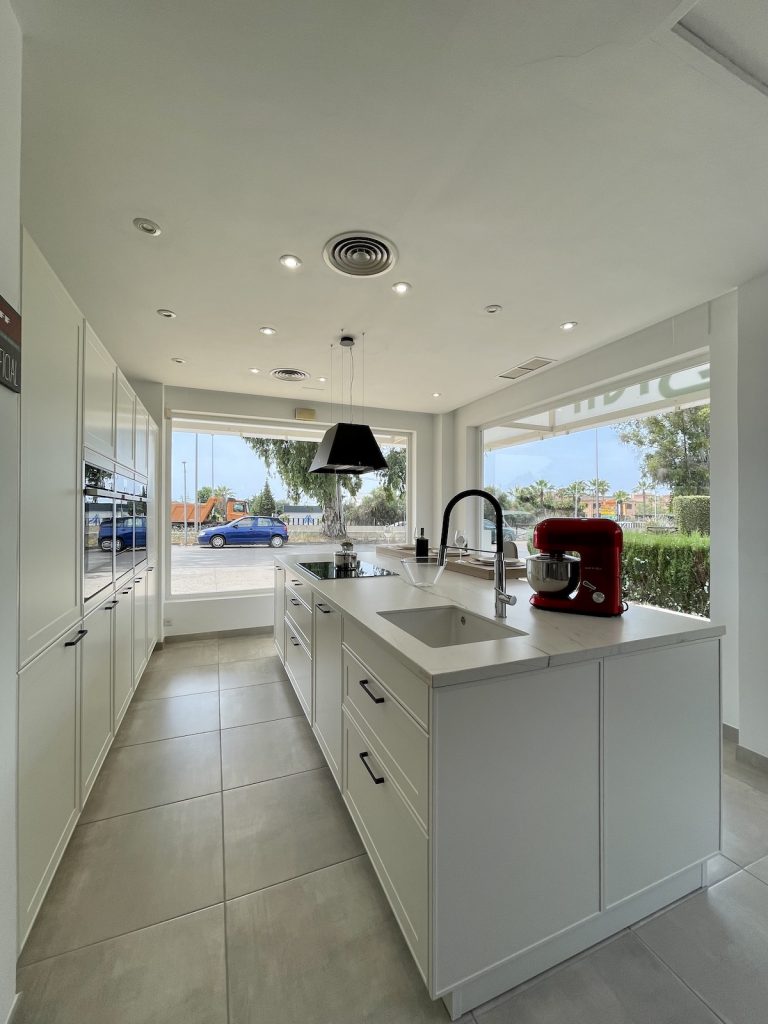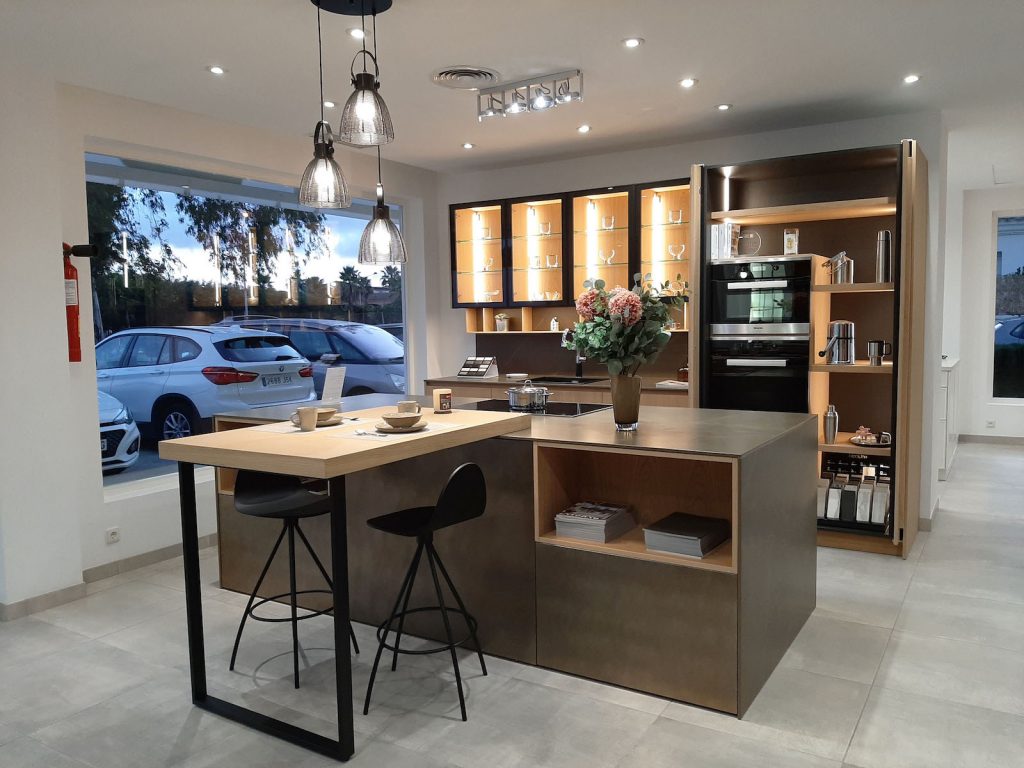 Design Kitchen, experts in kitchen design in Estepona
Choosing the right kitchen island for your kitchen can be a complicated task without the right knowledge of design, materials and assembly. At Design Kitchen we offer you the best expert advice for all types of kitchen islands.
Contact us or submit the form below and we will help you!