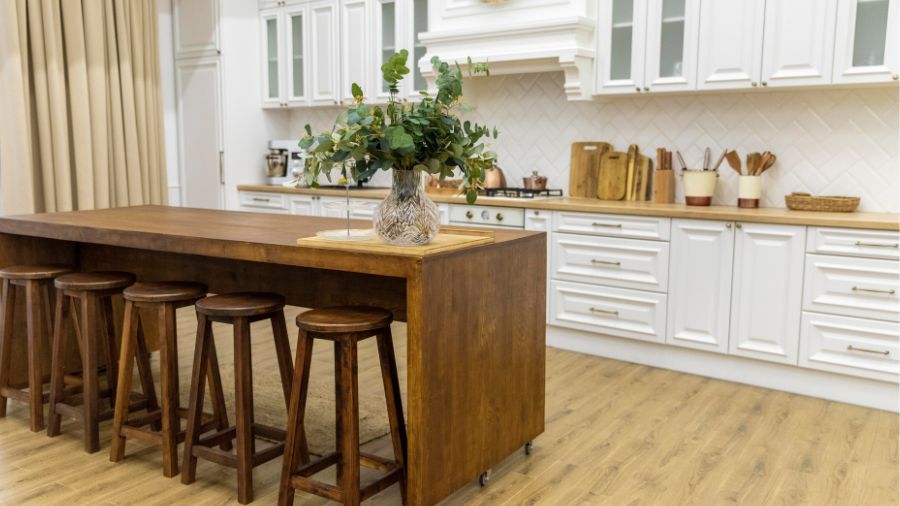 Design of rustic kitchens
Do you want to design or change your kitchen? At Design Kitchen we design rustic kitchens in Marbella and Estepona. Contact us for a quote.
Rustic kitchens are often full of charm and character. These kitchens are often designed to have a classic style but with modern touches.
What does a rustic style kitchen look like?
Rustic kitchen design is a style of decoration that is characterised by combining simple, natural materials such as wood, stone or brick with neutral colours such as beige or brown to create a cosy, relaxed and warm atmosphere.
The aim of this style is to create a sense of connection with nature. The rustic style is characterised by its vintage look, with antique furniture, solid wood cabinets and rustic decorative items. This décor is inspired by rural living, with modern and contemporary touches.
How to achieve a rustic kitchen?
Depending on the combination of colours, materials and decorative elements, you will be able to create the type of kitchen you want. Here are some steps to design a rustic kitchen:
Use a traditional colour palette. The most popular colours tend to be earth tones such as brown, beige and grey. These colours can be combined with bright shades such as orange, yellow and green to add pops of colour to your kitchen.
Use natural materials. Wood is the most common material for a rustic kitchen, as it gives the room a warm and cosy feel. Other materials such as stone, ceramic and clay can also be used to create a unique and elegant look.
Use vintage furniture. Antique furniture and vintage items are perfect for giving your kitchen a rustic look. These items can be found in markets or second-hand shops for an authentic décor.
Add decorative elements. Country-themed decorations such as wooden bowls, wicker baskets, ceramic figurines, natural plants and copper objects will give your kitchen that rustic touch you're interested in.
Incorporate textiles. Cotton, wool and linen fabrics are ideal for creating a warm and cosy atmosphere. Use patterned tablecloths, curtains and pillowcases in earthy tones to add a touch of colour and texture.
Would you like to know how we work? Find out about some of the projects we have carried out and the opinions of our clients.
Materials for rustic kitchen design
When designing a kitchen, the materials used are key to directing the overall style of the room.
The most common materials used to design a rustic style kitchen are wood, stone, wrought iron, bricks and ceramics.
Wood. It is the most popular choice to give warmth and elegance to the kitchen.
Wrought iron is also a great option for creating decorative details.
Stone and bricks are ideal for adding texture and a sense of durability.
Ceramic is a versatile material that can be used to create a variety of patterns and colours.
Rustic and modern style? it's possible!
Remember that a rustic kitchen doesn't have to mean old-fashioned. Many people think it does, but this is a complete misconception!
The rustic style can be adapted to all tastes. Not everyone is a classic rustic style and there are those who, due to lack of space, prefer less bulky furniture such as those found in this style.
In addition, those who live in cities and in smaller flats opt for a modern rustic style.
Are you thinking about a rustic style for your kitchen? At Design Kitchen we design rustic kitchens. If you would like to try one of our show kitchens, you can come and visit us at Calle Pico de los Reales, 36 29688 Estepona (Málaga).
For more information or to request a quote, send us the following form and we will contact you!