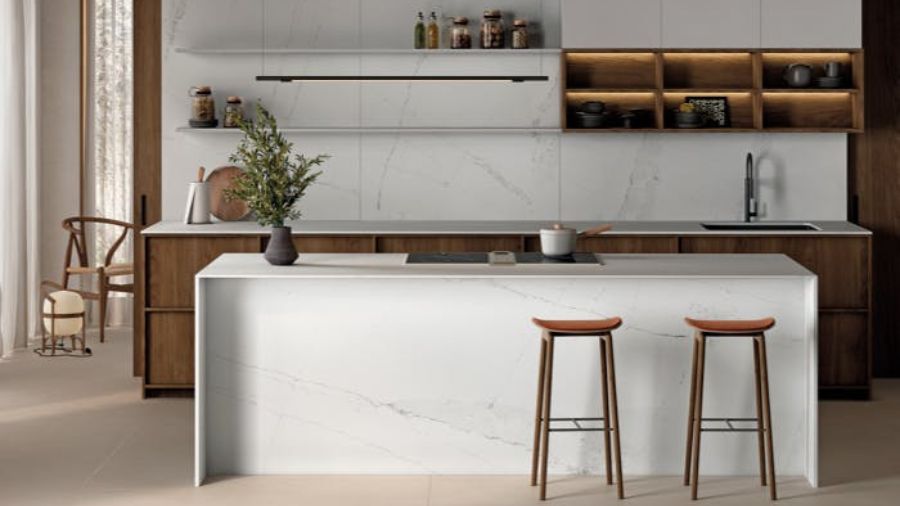 Quartz worktops, advantages and disadvantages
Discover the advantages and disadvantages of quartz worktops in this article. If you are looking for a durable and resistant material, dive into this full review of a versatile and modern material, which we use in many of the kitchens we install in Estepona and Marbella.
We will also address some frequently asked questions related to this type of worktops, as well as granite or porcelain worktops. We don't want to spoil it for you, but the conclusion is clear: quartz worktops are an extraordinary choice for any kitchen.
Advantages of quartz worktops
Quartz worktops stand out as an unbeatable choice for your kitchen. These surfaces are distinguished by their resistance, durability and ease of care. If you want to see for yourself, we invite you to visit our kitchen showroom in Estepona.
In case you didn't know, they are manufactured with an ingenious mixture of more than 90% natural quartz and the rest with resins, subjected to heat and high pressures to achieve ultra-resistant pieces. Quartz worktops stand as real shields against scratches and impacts. They are easy to install and require very little maintenance, perfect for any kitchen, whether it is used sporadically or intensively.
As they are made of synthetic components, they excel in terms of wear resistance, outperforming even natural stone worktops.
Diversity is another great asset in this type of worktop. They are available in a wide range of colours and styles, allowing you to adapt them to your aesthetic preferences and specific design needs.
The neutrality of these surfaces translates into a total absence of absorption of odours, flavours or dyes, preserving their impeccable appearance unalterably. This quality is particularly beneficial for foods and ingredients that tend to leave their mark, such as coffee, oils, tomato sauces, wine, etc.
They are also resistant to chemicals, allowing disinfecting and degreasing without fear of damaging their appearance or structural integrity. In fact, being non-porous ensures a hostile environment for bacterial growth in the kitchen, while daily cleaning becomes a simple task with soap, water and a cloth.
Disadvantages of quartz worktops, nothing is perfect
After a nice overview of the advantages, it is time to be honest and comment on those aspects that prevent it from being the perfect solution, but as you will see, they are practically perfect.
Beware of high temperatures: Although they withstand high temperatures in general, prolonged exposure to extreme heat sources can cause permanent damage. To avoid this, simply use a heat shield.
Fragility in the event of breakage: They can withstand impacts, cuts and scratches without leaving a trace. However, there is a limit to everything and if the impact breaks the surface, the quartz worktop cannot be repaired. The only option is complete replacement in the event of serious damage, so do not use a hammer on this worktop.
Comparative cost: While less expensive than porcelain worktops, quartz worktops can be more expensive than some traditional options, such as laminate. Certainly not the best option if you are looking for a cheap kitchen.
The conclusion is that it is a high quality and resistant surface, but like everything else, it has its limits. Of course, quality comes at a price, and a quartz worktop really deserves it, as they are absolutely spectacular.
If you want to explore the quartz worktops catalogue, we invite you to visit our kitchen shop in Estepona.
Questions related to quartz worktops
Which is better: quartz or granite?
Quartz stands out as a stronger and more durable material compared to granite. Its extraordinary hardness makes it a more durable choice. Unlike granite, quartz has a non-porous nature that makes it uniquely robust and exceptionally resistant to wear and tear.
What are the most popular brands of quartz worktops?
You may have heard of brands such as Compac or Silestone, both of which have extensive worktop catalogues to suit all types of kitchen styles.
Which is better, quartz or porcelain surface?
Brands such as Neolith or Dekton specialise in porcelain surfaces, a 100% natural material composed of granite minerals such as quartz, minerals from glass and silica and natural oxides, which create extremely compact surfaces. They have the same advantages as quartz worktops, but also offer improved heat resistance and a greater variety of thicknesses and formats.