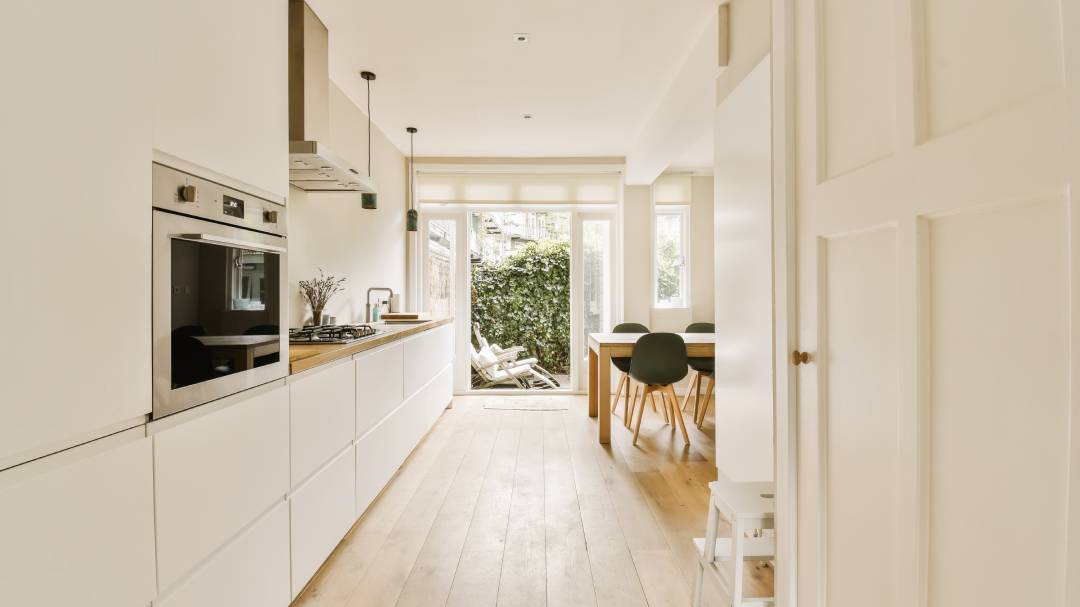 How to lay out an elongated kitchen?
Does your kitchen have an elongated shape that makes you feel as if you were in a tunnel? Don't worry! In this article, we offer you 10 valuable keys that you should think about in order to effectively distribute a kitchen of this type. Always maintaining both functionality and aesthetics.
The layout of your kitchen will largely depend on its floor plan. However, no matter how narrow it is, you can always make it practical and beautiful. With the right choice of furniture, a well thought-out colour palette and a few visual tricks, you can transform a complicated kitchen into a space that invites you to enjoy its company.
Ideas for a long kitchen layout
Here are some guidelines to consider when laying out an elongated kitchen:
Measure and plan: Functionality is key, so start by measuring the space. Leave at least 100cm of free space in front of base units, and even more if you have two rows of units facing each other. This ensures that you can open the doors without any problems. Next, consider whether a parallel, in-line or U-shaped layout is the best option.
Strategic appliances: Before thinking about worktops, make sure the appliances are suitable for your needs. Place the cooking section near the centre for convenience and consider the location of the dishwasher and fridge for efficiency, i.e. the fridge near where you will be cooking and the dishwasher near the sink.
In-line arrangement: In these situations an in-line arrangement of cupboards is effective in avoiding a tunnel feeling. Maximise storage by using tall units that reach up to the ceiling. Although they may be less convenient to access, they are useful for storing less frequently used items.
Reinforce horizontal lines: When laying out an elongated kitchen, opt for low units on one or both sides. If you find that you are lacking storage, consider placing low tall cabinets with a horizontal design to minimise the visual impact in a narrow kitchen. You can place bulky items such as the oven column or pantry on the far wall or at one end to visually shorten the space.
White and bright: Light colours are ideal for wardrobe fronts, and in this context, if they are plain and without handles, all the better. This helps them blend in with the walls, floors and ceilings, creating a feeling of spaciousness and light.
Strategic lighting: The right lighting can visually expand the space. Use spotlights or swivel tracks to direct light onto the walls and combine them with under-cabinet lighting to highlight the contours of the kitchen and make it easier to work in the work area.
Connects with the living room: If you have the possibility of opening an opening to the living room or dining room, it can be a good idea to give more space or relief. As well as giving a feeling of spaciousness, it will allow light to flow in and make the space more welcoming.
Visual tricks: Play with colours to balance proportions. You can paint the back wall a darker shade than the furniture to shorten the corridor effect. Another possibility would be to accentuate a wall with bold tiles or wallpaper at one end of the kitchen. If you have high ceilings the idea is the same, give it a touch of contrasting colour.
Design with your children in mind: If you have children at home or plan to have them, consider making adjustments to the design to make it safe and practical for them. Opt for worktops and tables with rounded corners to avoid bumps, and make sure appliances are located out of reach of young children. In addition, you can include an accessible storage area so that children can reach their plates, glasses and utensils.
Include decorative elements: To add personality and style to your elongated kitchen, don't forget decorative elements. Floating shelves with plants, pictures or decorative elements can also liven up the walls and create a cosy atmosphere. Rugs and cushions on dining room seating can add a touch of colour and texture – don't underestimate the power of decorative details to transform your space!
We are sure that with these tips you will be able to transform an elongated kitchen into a practical and beautiful space. Make the most of every centimetre and you will enjoy your kitchen to the full.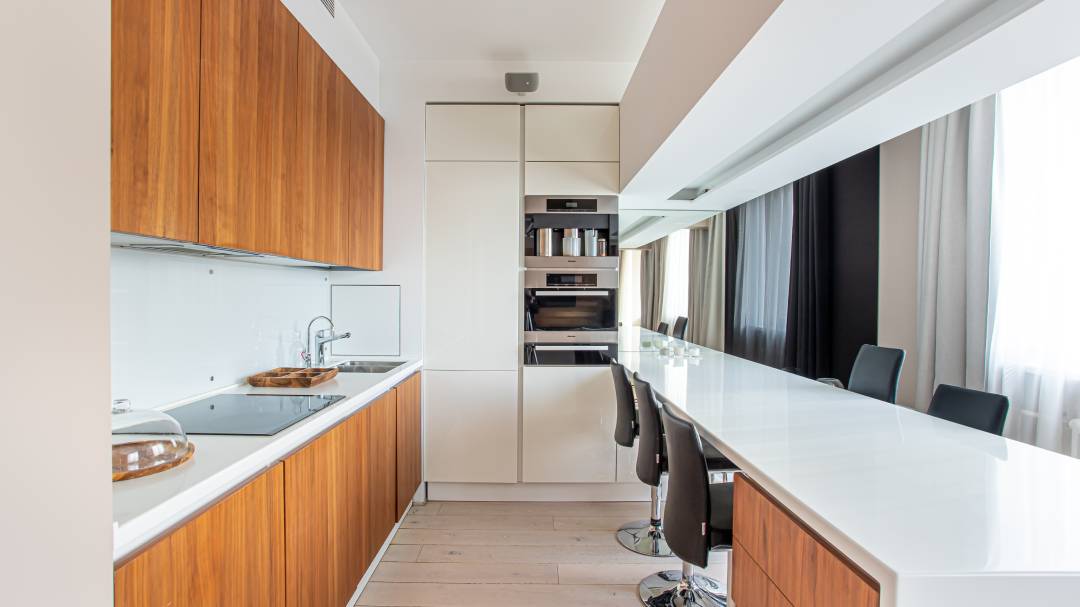 Now it's time to look for inspiration in interior design magazines, on social networks such as Pinterest or, even better, visit our kitchen shop in Estepona, we are sure we can help you. We have been helping to create spectacular kitchens for our clients in Marbella and Estepona for decades.