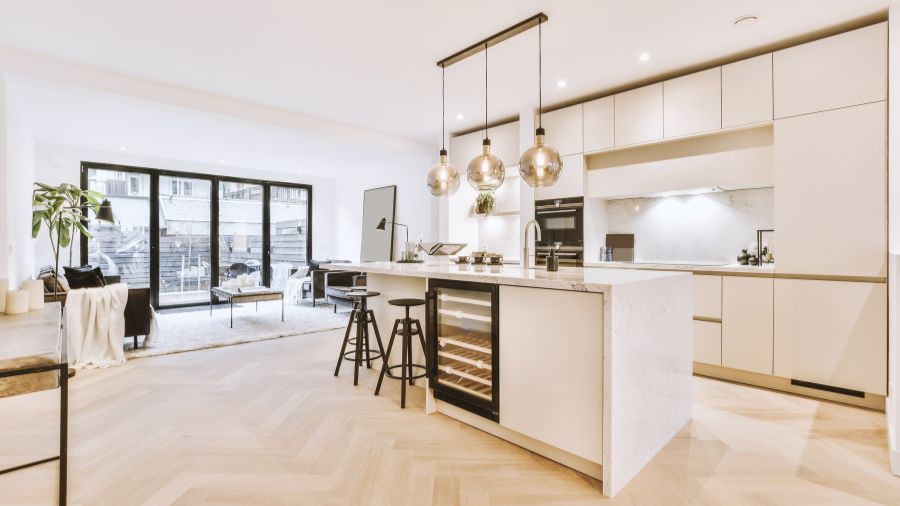 Disadvantages of open kitchens
Open kitchen or not? In this article we help you to think about whether an open kitchen is the best option. Therefore, we will show you the disadvantages of open kitchens so that you can also get to know this part and help you decide, weighing up the advantages and disadvantages.
In the world of interior design it is essential to take into account the client's lifestyle.
Open kitchens may have been a trend for years and allow for spectacular photos, but it is worth knowing the disadvantages of open kitchens.
The intention of this article is in no way to take away your desire for an open plan kitchen, but rather for you to contemplate this option with its advantages and disadvantages, and if you have any doubts or need advice you can contact us or visit our kitchen shop in Estepona.
Open kitchens, what do you need to know about them?
An open kitchen is a kitchen that has no walls separating it from the rest of the house. Open kitchens are often part of a larger living space and are generally used as an entertaining area as well.
Often, open kitchens have islands or peninsulas in the middle of the kitchen that serve as a place for cooking as well as a place for children to do homework or for adults to have a drink.
Disadvantages of open kitchens
Like everything else, open kitchens have their advantages but also their disadvantages. Here are some of the disadvantages you should be aware of if you are considering an open-plan kitchen in your home:
Tidiness problems. If the kitchen is open to the living room, you will realise that it must always be tidy, like a magazine kitchen. No dishes in the sink or on the worktop, no breadcrumbs, no rags, etc. A glass enclosure is not a solution, unless it has opacities or curtains you will see that the kitchen is untidy.
Odour problems. When being open, even if we have an excellent technology of extractors, there are smells that can remain in the room. In this case, using a glass enclosure can be a good solution to this problem.
Problems with noise. As is normal in a kitchen, people work, while in a living room they usually rest. If you want to watch your favourite series and at the same time you want to cook something (blender, deep fryer, extractor, microwave…), the conflict is served.
Lack of privacy. If you like to be cooking in peace and quiet or take a break and enjoy a coffee or tea on your own, with an open kitchen you won't have that option if the rest of the family is in the areas it connects to.
Half-open kitchens: a possible solution
Not everything has to be black and white; it can also be grey.
Semi-open kitchens offer another option that is halfway between a fully open and closed kitchen. How?
There are a few ideas for enjoying a semi-open space. These are:
Half-height wall. You can create a half-height wall, creating an open space at the top, but with a support area at the bottom. In this way, you get a semi-open kitchen.
Island. By placing an island you can delimit the space.
Glass wall. Glass enclosures close off the space, but promote visual continuity. Glass enclosures can be very elegant, but be careful because they can eat up a lot of space and require constant cleaning, especially if you have small children.
In short, an open kitchen is not always the best option. Hopefully we have helped you to think about these disadvantages. If it still fits your lifestyle, go for it! It is true that we can achieve spectacular results with an open kitchen, but the most important thing is that it fits in with your everyday life.
If you are thinking about having an open plan kitchen, it should be a thoughtful decision, thinking about the needs you have. At Design Kitchen we are experts in modern kitchens, we have professionals in design and we can help you choose the best options for your kitchen.