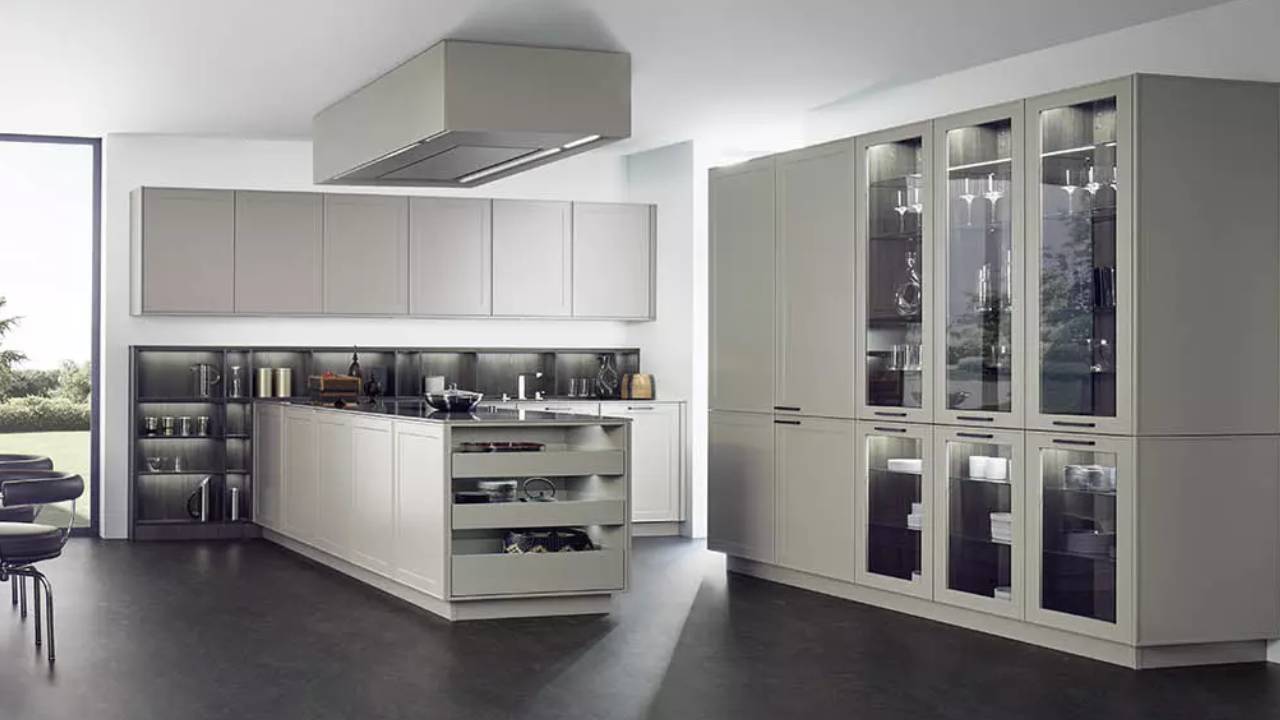 Kitchens with peninsula open to the living room
If you currently have a closed kitchen and you want to transform it, a good idea could be kitchens with a peninsula open to the living room. If you have about 15 m2, let's see how it can be planned, the measurements and some good ideas.
Kitchens with a peninsula can be very functional, practical and beautiful. You can opt for base units on two fronts only, or incorporate wall units on one or both sides to increase storage.
It is up to you to choose a modern, classic, rustic, Nordic, etc. style. There are endless possibilities, so our recommendation is that you visit our kitchen shop in Estepona so that we can guide you and give you personalised advice.
What is a peninsula in the kitchen?
Let's start with the basics, a kitchen with a peninsula is a kitchen design in which we add a worktop or countertop extension adjacent to the main cabinets and worktops.
This extension, called a peninsula, connects to existing cabinets and worktops, usually at right angles, thus creating a kind of island that is connected to a wall or to the main cabinets.
The peninsula extends from one of the kitchen walls and is often used as an additional area for food preparation, eating or to provide extra storage space.
What is the difference between an island and a kitchen peninsula?
The peninsula kitchen is an excellent design solution for kitchens that do not have enough space for a free-standing island but wish to add extra functionality, a more modern aesthetic and versatility to the kitchen space.
The difference with an island is that it is completely detached from the other base units and the worktop. As its name suggests, it creates an independent space that can have multiple functionalities, but at the same time it can complicate the installation of supplies, drains and ventilation.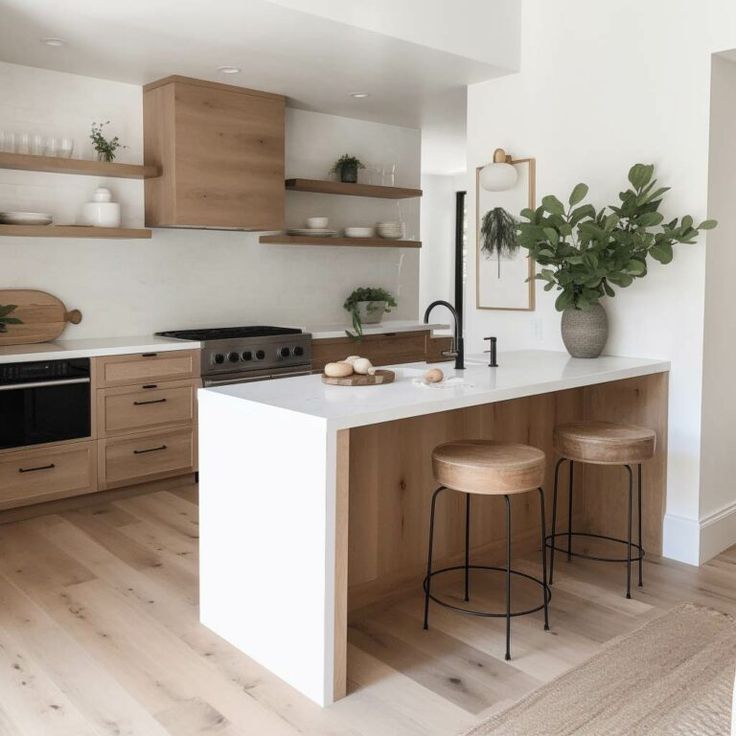 What are the dimensions of a kitchen peninsula?
The ideal size for a kitchen peninsula can vary depending on the space available and the specific needs of each kitchen. However, there are some general guidelines that may be useful when considering the dimensions of a kitchen peninsula.
The typical depth of a kitchen peninsula is around 60 to 90 centimetres, which provides enough space for food preparation and to accommodate stools if a dining area is desired.
The standard height of most kitchen peninsulas remains around 90 centimetres, which is the conventional height of kitchen worktops.
In terms of length, this can vary considerably depending on the design and size of the kitchen. It is recommended that the peninsula is long enough to provide a comfortable working space and enough room to move around it.
To give you an idea, a suggested minimum size would be at least 1.20 metres, but in larger spaces, you can opt for larger peninsulas that can accommodate cooking areas, sinks and even integrated appliances.
In addition, when designing kitchens with a peninsula, it is important to plan a space of 80 or 90 centimetres between two furniture fronts, in order to be able to open the drawers and appliance doors without any problems.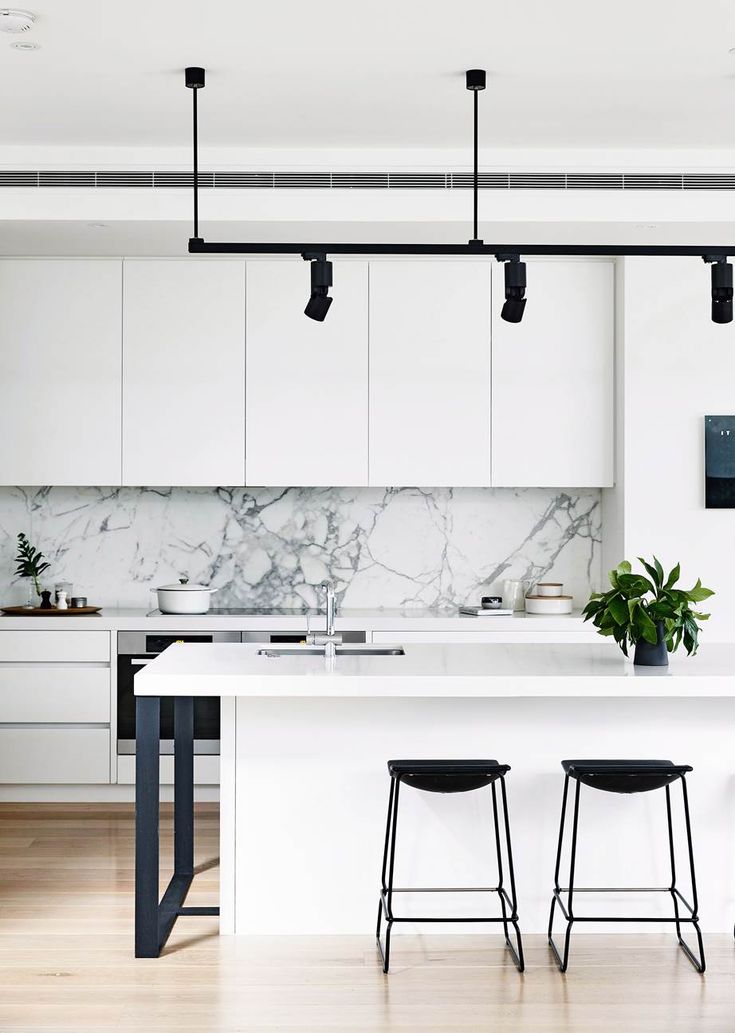 5 good ideas for kitchens with a peninsula
If you're lacking inspiration, we're overflowing with creativity and experience. Here are five great ideas for kitchens with a peninsula:
Hide the appliances: if the kitchen is open to the living room, it may be a good idea to hide the doors of appliances such as the washing machine or dishwasher, or even install the microwave under the worktop of the peninsula, in order to maintain a more beautiful and uniform design.
Peninsula with bar: the worktop of the peninsula can be extended a few centimetres outwards to create a cantilevered space. The idea is to be able to place some stools or, if we are seated, to leave space for the legs and we can have breakfast or lunch on the same peninsula.
Peninsula and table: if you don't like stools, the alternative can be to integrate a table at an angle or connected directly to the peninsula. It will be useful for any meal, as well as an additional work space. We can offer you a wide variety of shapes, sizes and styles.
Play with light: lighting for cooking is very important, and a strong point of kitchens with a peninsula open to the living room is that they usually have good natural light coming from the living room or dining room. In addition, different types of lighting can be incorporated, such as spotlights, ceiling lamps or ambient lighting to make it a more practical and welcoming space.
Avoid tall furniture on the peninsula: the more storage the better, but on peninsulas it is better to use only low furniture. They are enough to create a separation from the living room or dining room, but if you add tall furniture, you are practically creating a wall of separation, which is not the idea.
As you can see, kitchens with a peninsula open to the living room offer many possibilities. If you lack space or you are not convinced by the idea of installing an island, but you have the idea of renovating your kitchen by opening it up to the living room, contact us today, book your appointment and we will help you to design your new culinary space.