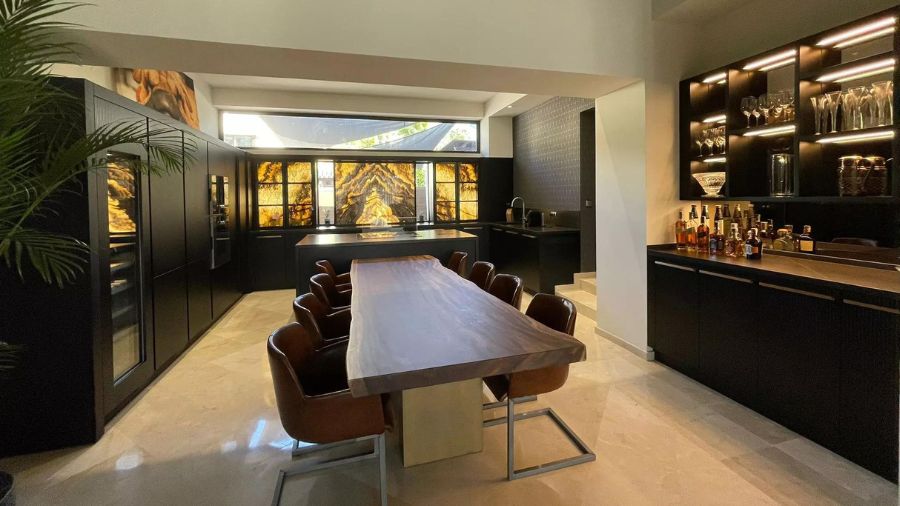 Black kitchens
Black kitchens are not the most common, but when we design one for the right space they are simply beautiful and elegant. The great thing about black is that it allows you to create classic or modern kitchens, and always with a spectacular result.
If you live in Estepona or Marbella and the idea of having a black kitchen is on your mind, you are already late in visiting our showroom. Come and meet us, tell us the ideas you have in mind and our design team will make it happen.
If you are looking for a kitchen with a sober style that conveys luxury and elegance, black kitchens should be on your list of possibilities. They can be combined with light or dark woods, as well as with porcelain surfaces, quartz, granite, etc.
As for the electrical appliances, given that many brands manufacture them in this colour, there is no need to panel them. You decide, they can be left visible or they can be hidden to achieve a more sober and uniform appearance.
Advantages of black kitchens
We can summarise the advantages of black kitchens in these five points:
Timeless elegance: Black kitchen furniture conveys a sense of elegance and sophistication. Particularly when combined with gold or certain woods, as well as quality worktops.
Versatility in design: Black furniture is very versatile and adapts to a wide range of decorative styles: modern, classical, rustic, etc. They combine well with different colours and materials, allowing you to experiment with different colour palettes and textures.
Contrast and prominence: Black furniture in the kitchen creates a striking contrast. This makes it possible to highlight glass cabinets, worktops and other design elements, creating a very attractive visual effect.
Sensation of depth: If we play with contrasts and lighting in the right way, the colour black in furniture can help to create a sensation of depth. When space is limited, it is a very necessary resource if we want to generate the illusion of greater amplitude.
Conceals stains and dirt: Depending on the finish, black furniture can better conceal stains and everyday dirt. For glossy surfaces there are anti-fingerprint treatments that make kitchen maintenance and cleaning easier.
Disadvantages of black kitchens
Of course, there are also disadvantages, and it is good that you are aware of them so that you don't have any unpleasant surprises once you have finished. We summarise them in the following 4 points and give you some keys to prevent problems:
The feeling of less light: This is especially noticeable in small spaces or spaces with little natural light. To prevent the kitchen from appearing smaller or closed in, we must use good artificial lighting.
Heat build-up: Black furniture tends to absorb and retain heat more than lighter coloured furniture. Ideally, the kitchen should have plenty of natural light, but not direct sunlight on dark surfaces as this can create a hot atmosphere in the kitchen.
Increased visibility of fingerprints: On certain surfaces black furniture is prone to show marks, fingerprints and scratches more easily than lighter coloured furniture. It is therefore advisable to inform yourself, to opt for anti-fingerprint treatments or to assume that you will have to wipe more frequently.
Lack of contrast: Black should not be combined with too many colours, but neither should you choose a predominantly dark colour palette, as the furniture could visually merge with other elements and lose a certain degree of contrast. We can help you find that balance.
We hope you found this article useful or at least interesting. If you want to have a black kitchen you know, in Estepona and Marbella you can count on Design Kitchen. In these more than 30 years we have helped to design and install thousands of kitchens on the Costa del Sol.